LA BANDA DI PALERMO
LA BANDA DI PALERMO is a group of 11 members enlarged for S. Rosalia Feast in 1998, starting from a group of 5 musicians existing before. It didn't exist a definitive name for this group, in that it has been presented always with a different name according to occasions. Santuzza was the confidential nickname with whom people in Palermo call their patron saint (S. Rosalia). Santuzza Band is the name that the group had during the exhibitions for S. Rosalia Feast. Before calling themselves LA BANDA DI PALERMO the band played with the name "Little Balkan Orchestra".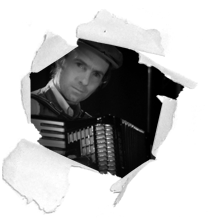 The music is fresh, cheerful, explosive, stuffed with freaks but at the same time rich in lyricism. Its "cantabile" character and its rhythm complete themselves reaching a sound and visible result of remarkable impact. The music played originates from the Sicilians folk-songs (religious and profane) arranged for this staff, but there are some recalls to close geographic and musical areas such as the Balkan States and intrusions in particular fields balanced between different manners, such as for example some extracts of Nino Rota and the Arab and Kletzmer music. In general, no music, no style not related to the spirit of the members is excluded, handling the sound material with exact and careful arrangements.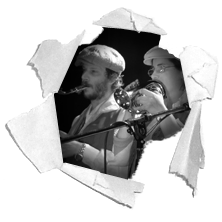 The band can play on a stage, even if the preference goes always to situations of movement, that pass through space and spectators, retracing one's step, departing, "exploring" the land in which it goes to play. The band was the sound track of the feast of Palermo 1998 and took part to event of different kind.


Press reports about LA BANDA DI PALERMO
Marbach & Bottwartal 11.2008 - Download [.pdf], D
Folker! CD Rassegna 10.2008 - Download [.pdf], D
Staufer Kurier 07.2008 - Download [.doc], D
Ruhr Nachrichten 02.2008 - Download [.doc], D
Martina Kausch Seelenscheid 02.2007 - Download [.doc], D
Mindener Tageblatt 03.2009 - Weblink, D
Kölner Stadtanzeiger - Weblink, D
Miraggi Corsari - Weblink, I
Succoacido.it - Weblink, I
Mclink.it - Weblink, I